Features
Hitachi Hoists Features a lot of Mechanisms for Safety and Easy Maintenance. User-friendliness and Reliability are Further Improved
Hitachi Original High Reliability Brake System
A brake with automatic adjusting device is adopted, and the brake is automatically adjusted in proportion to the amount of lining abrasion.
Dual system of the main brake and the auxiliary brake is adopted.
Motor with Self-protective device
Hoisting motor is provided with a thermal protector which senses the heat of the motor coil and functions to protect the motor from burning damages caused by over work.
Effective Maintenance is possible
Effective Maintenance is Possible
The counter for memorizing starting times makes easy to check lifetime of consumable parts.
Inspection Window for Gears makes possible to check conditions of the gear and lubricant.
Punch Mark shows the reference point of hook inspection.
Inspection of the Rope End is easy.
Hitachi Rope Hoist V Series is composed of reasonable system that Brake, Motor, Drum, Reduction Gear, Auxiliary Brake are unitized.
Assembly and disassembly are easy.
Maintenance and serviceability are improved.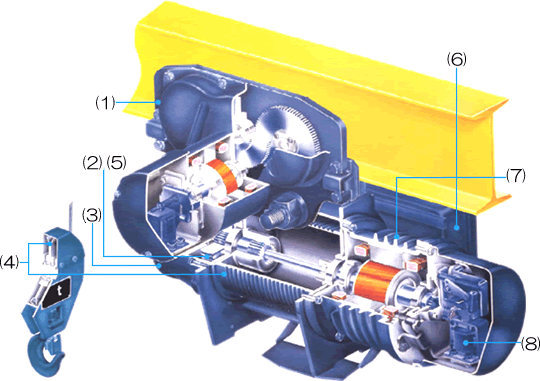 *

Please click to open a new window.