Sufficient consideration is given to the safety and reliability, since it is used in a site using an explosive gas. The Hitachi explosion-proof hoist / crane saddle is designed for operation in a chemical or coating plant using explosive gas. The explosion-proof ability of the hoist / crane saddle is applicable to a range of gas up to Ignition group G4 and Explosion class 2. (Refer to the Table of Explosion and Ignition ratings for Explosive Gasses.)
The electric-system of Hitachi explosion–proof hoist / crane saddle is totally enclosed. Even if an explosive gas exploded within the container, the container withstands the pressure of such an explosion and the gas existing outside of the container is not ignited, guaranteeing the explosion proof of the hoist / crane saddle.
The explosion–proof ability of the hoist / crane saddle is determined by the stipulations of ether the "Explosion-proof Guideline for Electrical Equipment in Factories" or "Explosion-proof Standard for Gases and Vapor" through the conditions vary by the ignition group and explosion class of the using gas and the place of its existence.
Not only the motor, but the brake and terminal box are all given the explosion-proof treatment. (Product approved by the Ministry of labor in Japan)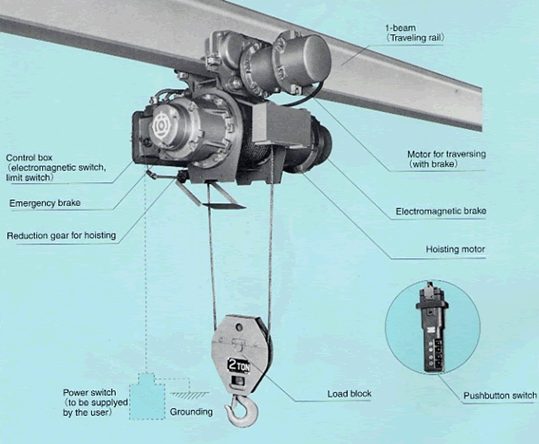 Standard Specifications
Hitachi explosion-proof hoist is designed so that it corresponds to the following regulation categories of Japanese Ministry of Labor.
| | |
| --- | --- |
| Explosion-proof Construction | d |
| Ignition Group | G1 to G4 |
| Explosion Proof | 1 and 2 |
| Division of Hazardous Locations | 2 |
In order to operate the explosion-proof safely even in the places with an explosive gas, reasonable maintenances should be taken place as the explosion-proof construction must be kept effectively. Also, any building in which the explosion-proof hoist is installed should be equipped with a ventilation system so that the explosive gas is eliminated effectively.
The standard ambient conditions for the explosion-proof electrical equipment is as follows:
Altitude : Up to 1,000 m
Ambient temperature : -10 to 40 °C
Humidity : 45 to 85 %
Indoor application
Type of Explosion-Proof Hoist
The "– XX" in the types show the explosion-proof.
Examples
Explosion-proof Type 1 ton Hoist : 1M-T65-XX
Explosion-proof Type Suspension Type Crane Saddle : SL6-28-XX
Following information should be indicated when quotation of the explosion-proof type is required.

Kind of gas
Concentration of gas
Ventilation conditions of the room where the gas exists
Working conditions including max. No. of starts per hour and duty factor
Traversing distance and if any curved travel is included
Other electrical equipment installed in the room and if they are explosion type or not.
Classification of Explosive Gases
Explosive gases are classified according to their ignition rating and explosive rating depending on the degree of danger.
1. Ignition Group
Ignition groups are classified as follows according to the ignition points of the individual gases. The Hitachi explosion-proof hoist can be used for gases of up to G4 for ignition groups or up to 135°C for ignition point.
| Ignition Group | Ignition Point |
| --- | --- |
| G1 | Over 450°C |
| G2 | Over 300°C to 450°C |
| G3 | Over 200°C to 300°C |
| G4 | Over 135°C to 200°C |
| G5 | Over 100°C to 135°C |
| G6 | Over 85°C to 100°C |
2. Explosion Class
Explosion class is classified into the following depending on the value of the gap through witch the ignition spreads.
| | |
| --- | --- |
| Explosion Class | The value of the gap through which the ignition spreads with 25mm in depth. |
| 1 | Over 0.6 mm |
| 2 | Over 0.4 mm to 0.6mm |
| 3 | 0.4 mm and below |
3. Classification of Explosive Gases
Typical explosive gases classified by the ignition and the explosion ratings are as follows:
Ignition
Group
Explosion Class
G1
G2
G3
G4
G5
G6
1
Acetone
Ammonia
Carbon monoxide
Ethane
Acetic acid
Ethyl acetate
Toluene
Propane
Benzene
Methanol
Methane
Ethanol
Isomyl acetate
Butanol
Butane
Acetic anhydride
Gasoline
Hexane
Acetaldehyde
Ethyl ether
Ethyl nitrite
2
Coal gas
Ethylene
Ethylene Oxide
3
Water gas
Hydrogen
Acetylene
Carbon disulfide
Ethyl nitrate
Bold text — Hitachi explosion-proof hoist can be operated.
4. Upper Limit of Temperature rise
The upper limit rise of temperature of electrical equipment in an explosive gas is as follows when the ambient temperature is 40°C.
| Ignition Group | G1 | G2 | G3 | G4 | G5 | G6 |
| --- | --- | --- | --- | --- | --- | --- |
| Upper Limit of Temperature rise | 320 | 200 | 120 | 70 | 40 | 30 |