Features

Hitachi original
"Makeup fluid consumption reduction system"
has Significantly-reduced running cost.
The ink recovery control and device temperature control provided by the new technology of "Makeup fluid consumption reduction system" suppress the amount of makeup vapored and achieve industry-leading levels of makeup consumption.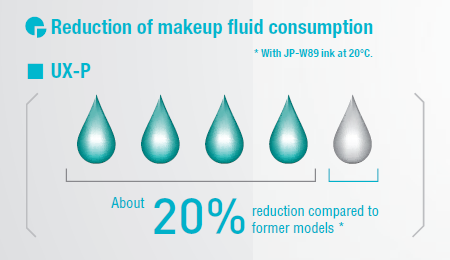 "Pigmented-ink stirring system" executes the
optimal stirring control and improves the ink
dispersion stability
The electric stirrer prevents the agglomeration and the settling which are specific to the pigmented ink so that it prevents the nozzle and the filter clogging. In addition, the Pigment model of UX Series is equipped with "Ink circulation control" which allows the ink to circulate even in a standby mode to prevent the ink fixing and realizes smooth operation on the production lines.