HITACHI original adjustable matching method optimally suited for ink jet printers
Featuring a color camera for flexible print verification
Dedicated white LED strobe lighting and controller power supply

*1

Optimally adjusted focus and lighting previously reliant on individual intuition
Print interpretation (Binarization) setup is easier, by suggesting the optimal color filter values
*1

For models with lights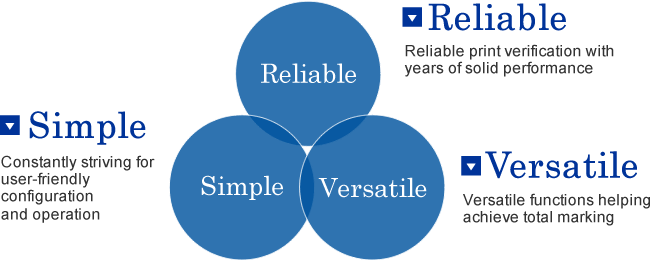 Adjustable matching
HITACHI original adjustable matching method is adopted to enable human-like assessment according to changes in the size and line thickness of dot fonts. This allows the character size and tilt, which would otherwise be judged NG by general image verification, to pass the verification stage and prevents unnecessary item rejection.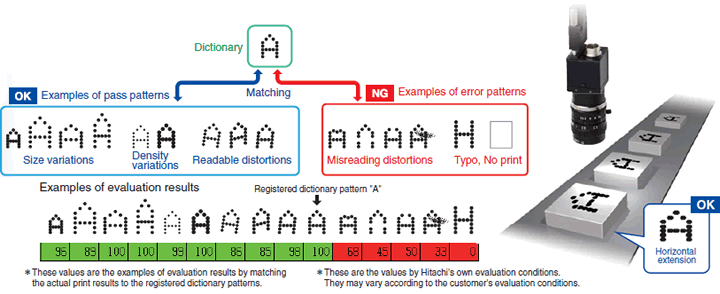 A color camera can be used to judge color differences that would not otherwise be identifiable by a monochrome camera. Software color filters eliminate the need for users to select lighting and install color filters.




Simplified item setup by following the on-screen guidance.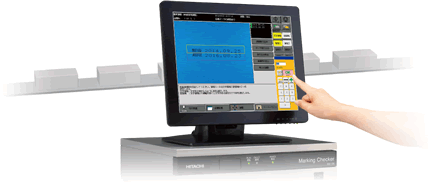 Recommended value guide
For general verification, parameters, such as "setting binarized level" and "setting color filter" , which may have a significant impact on verification preciseness, are displayed on screen for a user-friendly configuration, which would be conventionally difficult without professional knowledge.


Optimally configured focus and diaphragm, which were previously reliant on operator's experience and intuition, are displayed as numeric readings.
Various adjustments by checking the numeric data carry simple setting.
Assisted focal adjustment
The point with the highest focal value of manual adjustment is found and displayed at the appropriate focal position on screen.
Setting of lighting and adjustment of diaphragm
The densities (lighting) of the center and four corners are displayed when capturing the white image, which allows checking for uniform and appropriate lighting.



Rotation correction
Even where the moving work rotates (±180°), the immediate rotation correction allows stable print verification.
Reference position correction
The print position of characters and logo marks can be set as reference values, which allows immediate catch-up for correction, even if the work position moves back and forth and around.


The calendar and count function are built in for automatic catch-up with print data change such as the date of manufacture, best-before date, and serial lot number.
The offset function is provided for automatic calculations in compliance with the period (offset) setting.


High-level collaboration with Hitachi IJ printer. Switching items and changing printed characters on the printer side can be automatically aligned with the Vision System.


The time and the verification results can be saved as traceability information.

Item
Model
MC-20SW1
MC-20SW0
Number of registered items
240 items
Number of verification areas
Max. 6 areas
Number of verification characters
Max. 16 characters per area
Verification characters
Characters marked by IJP, laser, thermal and stamp
Tilt of characters
Within ±3°
Verification method
Character matching, presence and area
Character dictionary
20 patterns per font
(OK characters: 10 patterns, NG characters: 10 patterns)
Block: 8 patterns
Speed
400 pieces/min

*1

Counter display
Total verified, pass and error patterns
Correction function
Rotation correction (±180°), reference position correction, shading correction
Rotation correction
Search range: ±180°
Tilt cutting
±30°
Substitution
Alphanumeric substitution of year, month, date and time; count-up random verification
Save of images
Latest NG images: 100; latest OK images: 8
Result signal output
Strobe
Touch panel display interface
15.0 inch TFT LCD, Resistive touch panel
Camera Interface
Color VGA, or Monochrome VGA camera
Connectable cameras
1
Light
White LED strobe lighting x 2
-
Light controller
Dedicated light controller
-
External memory
USB port x 2
Data interface
RS-232C
Input signal
Verification sensor, encoder, error reset, count reset, test mode
Output signal
Display light, verification result, verification ready, unit ready,
verification complete, test mode, external strobe
Power supply
AC100-120/200-240V±10%, 50/60Hz
Electricity consumption
120VA or lower
Ambient temperature and humidity
0-40°C/32-104°F,30-80%RH
Operating environment
No condensation, no dust, nor corrosive gas
Weight
Approx. 8kg/18lbs
*1

The number varies depending on the verification details.
Option
Touch panel display
Lens(8mm)/Lens(12mm)/Lens(16mm)
Camera:Color camera/Monochrome camera