Suspension Type Saddle

Highly stable type owing to adoption of a sturdy frame. The saddle is used with a standard type rope hoist.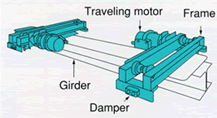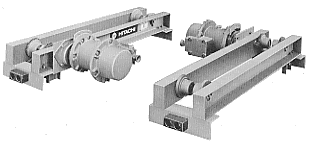 Specifications
Model

Specifications
SL6-28-XX
Maximum Span (m)
12
Maximum Wheel Load (ton)(with 2 wheels)
2.8
Traveling Speed (m/min, 50/60Hz)
21/25
Motor (kW, 50/60Hz)
0.30/0.36×2Units(with brake)
Rating
Duty factor: 25%,
Max. No. of starts per hour: 250 starts/h
Power Source (3-phase)
200V 50/60Hz, 220V 60Hz,
380V to 400V/415V 50Hz, 400V to 440V 60Hz
Applicable Traveling I-beam (mm)
200×100×7
250×125×7.5
300×150×11.5
Approx. weight (kg)
130×2
Note
*1

The saddle is coated for rust prevention only.
Use 3PNCT cable the motor cable of the saddle.
The standard size is 4C×2 mm2.
Please consult us when you use a cable of different size.
Selection of the saddle
Hitachi suspension type crane saddle is produced on the premise of I-beam is used as girder.

Note
*

The capacity shown in the diagram shows approximate capacity to the maximum span.
In the actual selection, the wheel load including the girder must be calculated.