Hitachi produces a variety of rope hoists with special specifications of lifts, conditions of use and speeds according to works or atmospheres of the workshop. Select the best one and make use of it.
Special Hoisting Speed
Anti Corrosive Type
With Rain Cover
With Load Limitter
High Frequency Type
Special Traversing Speed
Special Electric Source
Multi Hook Type
With Upper and Lower Limit Switch
It is economical because separate hoists can be used depending on weight load.
Double Rail Type Hoist (7.5 ton to 20 ton)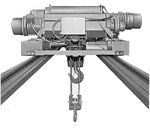 Specifications
Model
7.5D/2HD-T555
7.5HD/2HD-T555
7.5D/3HD-T555
7.5HD/3HD-T555
Main Hoist Model
7.5D5
7.5HD5
7.5D5
7.5HD5
Auxiliary Hoist Model
2HDWZ5
2HDWZ5
3HDWZ5
3HDWZ5
Trolley Model
7.5/2DT5
7.5/3DT5
Main Hoisting
Rated Load (ton)
7.5
Lift (m)
8
12
8
12
Hoisting Speed (m/min)
50Hz
6.0
60Hz
7.2
Hoisting Motor (kW)
50Hz
7.9
60Hz
9.5
No. of Poles
4
No. of Falls-Diameter (mm)
and [Composition] of Wire Rope
4-φ14[6xFi(29)-B]
Auxiliary Hoisting
Rated Load (ton)
2
3
Lift (m)
8
12
8
12
Hoisting Speed (m/min)
50Hz
8.4
7.5
60Hz
10
9.0
Hoisting Motor (kW)
50Hz
2.9
4.2
60Hz
3.5
5.0
No. of Poles
4
4
No. of Falls-Diameter (mm)
and [Composition] of Wire Rope
4-φ8[6xFi(29)-B]
4-φ10[6xFi(29)-B]
Traversing
Traversing Speed (m/min)
50Hz
14
60Hz
17
Traversing Motor (kW)
50Hz
0.45 × 2units
60Hz
0.55 × 2units
No. of Poles
4
Max. No. of starts per hour
and duty factor
Duty factor: 40%,
Max. No. of starts per hour: 400 starts/h
Electric Source (3-Phase)
200V 50/60Hz, 220V 60Hz, 380V to 400V/415V 50Hz, 400V to 440V 60Hz
Operating Method
10-point push button
( )
Approx. weight (kg)
1,600
1,660
1,690
1,750
Model
10D/2HD-T555
10HD/2HD-T555
10D/3HD-T555
10HD/3HD-T555
10D/5D-T555
10HD/5HD-T555
Main Hoist Model
10D5
10HD5
10D5
10HD5
10D5
10HD5
Auxiliary Hoist Model
2HDWZ5
2HDWZ5
3HDWZ5
3HDWZ5
5DWZ5
5HDWZ5
Trolley Model
10/2DT5
10/3DT5
10/5DT5
Main Hoisting
Rated Load (ton)
10
Lift (m)
8
12
8
12
8
12
Hoisting Speed (m/min)
50Hz
5.0
60Hz
6.0
Hoisting Motor (kW)
50Hz
8.8
60Hz
10.5
No. of Poles
4
No. of Falls-Diameter (mm)
and [Composition] of Wire Rope
4-φ14[6xFi(29)-B]
Auxiliary Hoisting
Rated Load (ton)
2
3
5
Lift (m)
8
12
8
12
8
12
Hoisting Speed (m/min)
50Hz
8.4
7.5
6.7
60Hz
10
9.0
8.0
Hoisting Motor (kW)
50Hz
2.9
4.2
5.9
60Hz
3.5
5.0
7.0
No. of Poles
4
4
4
No. of Falls-Diameter (mm) and [Composition] of Wire Rope
4-φ8[6xFi(29)-B]
4-φ10[6xFi(29)-B]
4-φ12.5[6xFi(29)-B]
Traversing
Traversing Speed (m/min)
50Hz
14
60Hz
17
Traversing Motor (kW)
50Hz
0.45 × 2units
60Hz
0.55 × 2units
No. of Poles
4
Max. No. of starts per hour and duty factor
Duty factor: 40%,
Max. No. of starts per hour: 400 starts/h
Electric Source (3-Phase)
200V 50/60Hz, 220V 60Hz, 380V to 400V/415V 50Hz, 400V to 440V 60Hz
Operating Method
10-point push button
( )
Approx. weight (kg)
1,710
1,800
1,800
2,100
1,830
2,160
Model
15D/2HD-T555
15HD/2HD-T555
15D/3HD-T555
15HD/3HD-T555
15D/5D-T555
15HD/5HD-T555
Main Hoist Model
15D5
15HD5
15D5
15HD5
15D5
15HD5
Auxiliary Hoist Model
2HDW5
2HDW5
3HDW5
3HDW5
5DW5
5HDW5
Trolley Model
15/2DT5
15/2DT5
15/3DT5
15/3DT5
15/5DT5
15/5DT5
Main Hoisting
Rated Load (ton)
15
Lift (m)
8
12
8
12
8
12
Hoisting Speed (m/min)
50Hz
5.0
60Hz
6.7
Hoisting Motor (kW)
50Hz
6.7 × 2units
60Hz
8.0 × 2units
No. of Poles
4
No. of Falls-Diameter (mm)
and [Composition] of Wire Rope
4-φ20[6xFi(29)-B]
Auxiliary Hoisting
Rated Load (ton)
2
3
5
Lift (m)
8
12
8
12
8
12
Hoisting Speed (m/min)
50Hz
8.4
7.5
6.7
60Hz
10
9.0
8.0
Hoisting Motor (kW)
50Hz
2.9
4.2
5.9
60Hz
3.5
5.0
7.0
No. of Poles
4
4
4
No. of Falls-Diameter (mm)
and [Composition] of Wire Rope
4-φ8[6xFi(29)-B]
4-φ10[6xFi(29)-B]
4-φ12.5[6xFi(29)-B]
Traversing
Traversing Speed (m/min)
50Hz
14
60Hz
17
Traversing Motor (kW)
50Hz
0.45 × 2units
60Hz
0.55 × 2units
No. of Poles
4
Max. No. of starts per hour
and duty factor
Duty factor: 40%,
Max. No. of starts per hour: 250 starts/h
Electric Source (3-Phase)
200V 50/60Hz, 220V 60Hz, 380V to 400V/415V 50Hz, 400V to 440V 60Hz
Operating Method
10-point push button
( )
Approx. weight (kg)
2,730
2,810
2,830
2,930
3,010
3,170
Model
20HD/2HD-T555
20HD/3HD-T555
20HD/5HD-T555
Main Hoist Model
20HD5
20HD5
20HD5
Auxiliary Hoist Model
2HDW5
3HDW5
5HDW5
Trolley Model
20/2DT5
20/3DT5
20/50T5
Main Hoisting
Rated Load (ton)
20
Lift (m)
12
Hoisting Speed (m/min)
50Hz
4.2
60Hz
5.0
Hoisting Motor (kW)
50Hz
7.5 × 2units
60Hz
9.0 × 2units
No. of Poles
4
No. of Falls-Diameter (mm)
and [Composition] of Wire Rope
4-φ22.4[6xFi(29)-IWRC-B]
Auxiliary Hoisting
Rated Load (ton)
2
3
5
Lift (m)
12
Hoisting Speed (m/min)
50Hz
8.4
7.5
6.7
60Hz
10
9.0
8.0
Hoisting Motor (kW)
50Hz
2.9
4.2
5.9
60Hz
3.5
5.0
7.0
No. of Poles
4
4
4
No. of Falls-Diameter (mm)
and [Composition] of Wire Rope
4-φ8[6xFi(29)-B]
4-φ10[6xFi(29)-B]
4-φ12.5[6xFi(29)-B]
Traversing
Traversing Speed (m/min)
50Hz
14
60Hz
17
Traversing Motor (kW)
50Hz
0.45 × 2units
60Hz
0.55 × 2units
No. of Poles
4
Max. No. of starts per hour
and duty factor
Duty factor: 40%,
Max. No. of starts per hour: 250 starts/h
Electric Source (3-Phase)
200V 50/60Hz, 220V 60Hz, 380V to 400V/415V 50Hz, 400V to 440V 60Hz
Operating Method
10-point push button
( )
Approx. weight (kg)
3,140
3,260
3,500