Hitachi Twin Hook Type Chain Hoist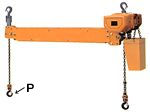 The Hitachi twin hook type chain hoist is a type with two chains that are winded up to the same sprocket by the electric motor.
It is possible to lift up the cargo by keeping it horizontal.
The hoist is suitable to lift up the long cargo or the one which levelness is required.
Specifications
Model Name
1/4SHT
1/2SHT
1SHT
1FHT
2FHT
Rated Load
125kg×2
250kg×2
500kg×2
500kg×2
1t×2
Standard Lift (m)
6
Hoisting Speed
(m/min)
50Hz
9.2
7.1
4.6
7.1
6.8
Hoisting Motor
(kW)
50Hz
0.4
0.65
0.8
1.3
2.4
No. of Poles
2
*

Only straight I beam can be applicable

*

The curtain load must be added to the lower hook (P) side.
Please consult us when you do not use the original hook.

*

Please consult us when you need other hook pitches.

*

Please consult us when the hoist is used more than an hour a day, or the hoist is used for the cargo that is close to the rated load for a long time.