Optional Electric Power for Chain Hoist and Trolley
Products for following electric power are available.
| | |
| --- | --- |
| 50Hz | 240V, 346V, 440V, 500V |
| 60Hz | 230V, 380V, 440V, 460V, 550V |
Optional Control Voltage
Standard control voltage is 24V however, chain hoists for following control voltage are available in case that matching to other equipment is required.
| | |
| --- | --- |
| Control Voltage | 100V 50/60Hz, 200V 50/60Hz |
With Overload Limiter
Hitachi chain hoists with overload limiter can live up to expectations for increased awareness of safety.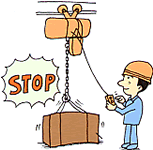 Features
Overload operation can be prevented.
Activation load is stable even after duty-cycle operation.
Equipment life will be increased by the design of shock prevention
Eelectromechanical structure makes it possible to cope with varieties of electric power.
Principle
Hoisting is cut off by the built-in detector of the reducing gear. This is the Hitachi unique overload limiter. Operation is deactivated and load is kept holding after overload is detected.
Following are the standard products
1/2S(H)2-OL,1SH-OL,2SH-OL,1SNH-OL
Dimensions are the same as ones of the hoist without overload limiter.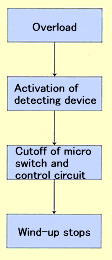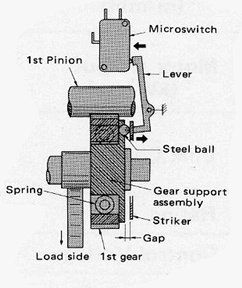 Lowering operation is possible after activation of the overload limiter Push the lowering switch first before starting the operation again.
Notes for handling the models with overload limiter
The overload limiter is to prevent unexpected damages when the chain hoist is operated with unintentional overload conditions.
Please refrain from intentional overload operation even if the limiter is not activated.
The activation load is adjusted in the range from 110% to 140% however, it may vary by stiffness of the building and the crane, conditions of carbon steel (Tamahagane), or operation method.
Chain Hoist with UDS Switch
The hoist is with UDS switch which detect the position of the motor. The hoist can be stopped at any place, or signals can be output at any place with UDS. Two points of total eight points are for upper and lower limits. The upper and lower limits of the UDS are set to activate at the 100mm before the incorporated limit switches as the factory default.
Chain hoist is with emergency stop button
The chain hoist can be stopped in emergency cases that are caused by overdrive or erroneous operation.