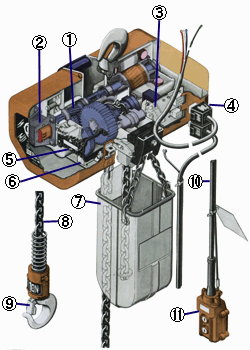 AUXILIARY BRAKE SYSTEM
F series hoists equipped with auxiliary brake.

1.HELICAL GEARING
used where practical to provide quiet operation.
2.LONG LIFE BRAKE UNIT
Disk type Electro-Magnetic brake system for steady operation and long life
F series hoists
are equipped with patented Automatic Ajusting Brake for easier maintenance and added safety.
U.S PAT,3908802
W.Germany PAT.2354044

3.LIMIT SWITCH(Upper and Lower)
interrrupt motor power to prevent hook overtravel and hazardous condition such as chain kink.
4.PLUG-IN CABLES
reduce maintenance time and installation.
5.ELECTRO-MAGNETICS CONTACTOR
with mechanical-interlocking against line short by mechanical shock.
6.Moist sizes are provided with REVERSE PHASE INSPECTING RELAY
cut control circuit when reverse phasing.
7.CHAIN CONTAINER
as standard part for safer operation.
8.POWER CHAIN
special (paterned) alloy steel chain surface hardeded for optimum strength and wear resistance.
(DIN-5684-8)(U.S. PAT. 3830054)
9.LOWER HOOK
is heart-treated and equipped with safety latch and 360° swivelling.
10.PUSHBUTTON CABLE
is molded with strain relief wire rope into one body. This assures easier and safer operation.
(PAT.PENDING)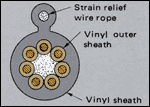 11.PUSHBUTTON SWITCH
is rain-proof plastic for severe impact and corrosive atmosphere resistance and mechanically interlocked.The 24 volt control circuit reduce shock hazard to the operation.
For Europian market
Emergency stopping button is available in order to stop Chain Hoist in an emergency case.
HITACHI OVERLOAD LIMITER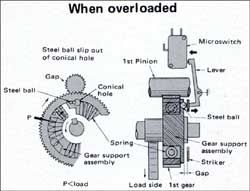 Unique, patented over load protection device is available on all models upon request.
U.S.PAT.4103873
CANADA PAT.1062232
Others
TRANSFORMER
Fuse is built in a primery side to prevent overheat.