High performance High Efficiency Small Size
Light Weight Use Simplify Three-Phase Motors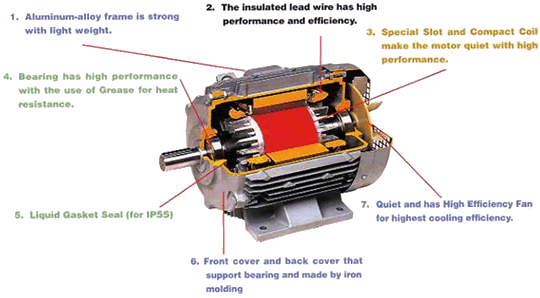 1. Aluminum-alloy frame is strong with light weight.
Aluminum-alloy(used in the manufacturing of airplane, Shinkansen train, etc.) is used for raw material of housing, which makes the motor to effectively ventilate heat and provides light weight.
2. The insulated lead wire has high performance and efficiency.
With our long history, we have developed high quality insulated lead wire and Wanis, that can support various hostile environments, even with very high temperature.
3. Special Slot and Compact Coil make the motor quiet with high performance.
From the start to running, it can smoothly start with high performance, which reduces the damage of machine because of low vibration. The motor does not harm the environment and the machine.
4. Bearing has high performance with the use of Grease for heat resistance.
We use high quality Grease for lubrication, which can be used effectively in low or high temperature because of the shield bearing.
5. Liquid Gasket Seal (for IP55)
We use high quality liquid seal for IP55 motor, which sustain high durable and longlife.
6. Front cover and back cover that support bearing and made by iron molding
Bearing maintains its optimal performance through usage life, of which its structure is recognized by our customers as the most reliable motor. As a result of our long research and experience, we have discovered and manufactured high-quality motors, which sustain low vibration and could tolerate vibration very nicely.
7. Quiet and has High Efficiency Fan for highest cooling efficiency.
The ventilation process is developed from CAE(Computer Aided Engineering) and has high efficiency fan with quietness. This high quality motor is accomplished through the effective use aluminum alloy.