Input side Radio noise filter <Capacitor filter>
Model name

Connecting Diagram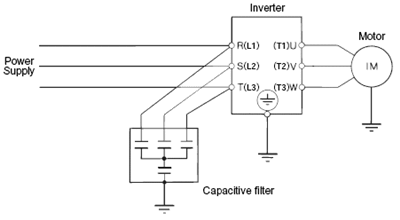 | Model name | W | H | T | Applicable inverter |
| --- | --- | --- | --- | --- |
| CFI-L (250V rating) | 48.0 | 35.0 | 26.0 | 200V class |
| CFI-H (500V rating) | 55.0 | 47.0 | 31.0 | 400V class |
*1

Do not connect the capacitor filter to the output side. Otherwise, the inverter or filter might be troubled.

*2

Beware of a leakage current from capacitors and select a leakage breaker. (The leakage current is approximately 22 mA in case of 220 V AC, 60Hz, delta wiring or approximately 20 mA in case of 440 V, 60 Hz, star wiring.)

*3

Fix the capacitors near the inverter so as to minimize the lead length. Do not suspend them.