The ink recovery control and device temperature control provided by the new technology "Makeup fluid consumption reduction system" suppresses the amount of makeup vapored, and achieves industry-leading levels of makeup consumption.
* As compared to Hitachi current models with 1067K ink at 20℃. About 30% reduc tion for UX-B and UX-D.
* In The U.S.,LA,and mainland China area,only model UX-D and model UX-B are sold.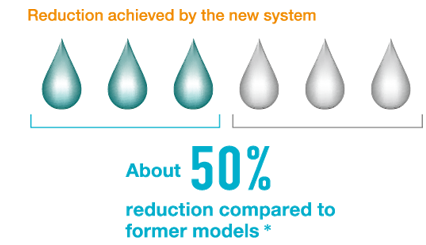 Use of cartridge-type ink bottle and makeup bottle allows easier replacement, and avoids "getting your hands dirty" or "ink spillage".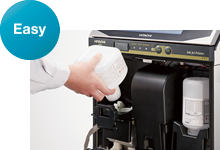 Easy and quick replacement of ink and makeup cartridges without staining your hands. A new error prevention feature (alarm) is provided using IC tags for ink and makeup replacement. Simplified checking makes the replacement more effective. *Some geographic areas are excluded.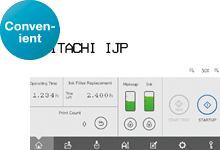 Icons on the screen indicate the ink and makeup amount of residue. They also indicate the proper time for cartridge replacement, which further improves usability.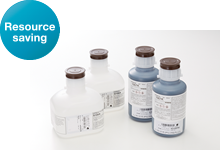 The ink and makeup cartridge bottles can be used right up to the last drop. Using up the ink and makeup eliminates the need to dispose of the ink and makeup, and their cartridge bottles separately.
Hitachi Industrial Equipment Systems Co., Ltd.
declares that the IC tag reader is in compliance
with the essential requirements and other relevant
provisions of the FCC Part15 subpart C, EN 301 489-
1/-3, EN 300 330-1/-2.

A 10.4-inch TFT LCD touch-panel screen provides a wide,easy-to-see viewing angle and contact-type intuitive operation. In addition, when calling new data, a finished image of the print can be checked on the screen, which helps avoid any erroneous printing.